News
A court in Kiev allowed Poroshenko to be detained after returning to Ukraine: Ukraine: Former USSR: Lenta.ru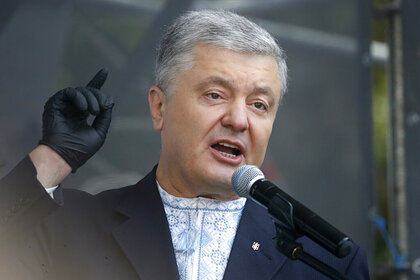 Pechersk District Court Kiev allowed Ukrainian security officials to detain the former president of Ukraine Petro Poroshenko immediately after his return to his homeland. Writes about it "Strana.ua" with reference to the lawyer of the politician Igor Golovan.
According to him, law enforcement already have the necessary documents to detain the ex-president. He will be forcibly taken to court to choose a preventive measure in a criminal treason case after he arrives at the airport Boryspil January 17.
"There are no grounds for forced delivery to the court or his detention, since he was outside Ukraine and is ready to voluntarily appear in court," Golovan reacted to the court's decision.
Earlier, the ex-deputy reported about the plans of the security officials to detain Poroshenko The Verkhovna Rada from the Radical Party Igor Mosiychuk… He referred to the data of the internal electronic database of the State Border Service, where opposite the politician's name was a note – "arrest".
The Ukrainian authorities suspected Petro Poroshenko of treason in early October. Militiamen released records concerning the case of the head of the political council of the party "Opposition Platform – For Life" Victor Medvedchuk… These materials, according to the security officials, prove the ex-president's conspiracy with the "separatists", including his involvement in the purchase of coal in the territories of Donbass not controlled by Kiev during the hostilities.
December 17 Poroshenko left country and went to Turkey and Poland to participate in meetings and an international conference on the topic "Russia – Ukraine – NATO". On the eve of his departure, an employee of the Ukrainian State Bureau of Investigation tried to hand him a summons in a criminal case, but the politician ignored him, got into the car and drove away. Poroshenko promised to return home after the end of the New Year holidays.