News
Antivaxers staged a march in support of Djokovic Russian news EN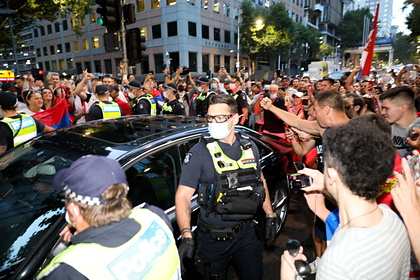 Australian vaccine opponents demand Serbian tennis player's clearance Novak Djokovic to the Australian Open tournament. They organized a protest in Melbourne. This is reported 9News.
Protesters are demanding an end to "medical segregation" and the abolition of mandatory COVID-19 vaccinations. The march in Melbourne has several hundred participants. They also intend to support Djokovic at the court session, which is scheduled for January 16. Antivaxers will gather outside the federal courthouse.
Djokovic will hold the night before the meeting in the "secret place". The parties agreed on this in order to avoid a "media circus" around the tennis player.
January 15 athlete detained. The measure follows a decision by Australian Immigration Minister Alex Hawke to revoke the tennis star's visa on Friday, January 14.
Djokovic has already been tried to be expelled from Australia. On January 10, the Serb managed to win the appeal and get the opportunity to take part in the Australian Open. The tournament is scheduled to run from 17 to 30 January.
On January 5, Djokovic was denied entry to Australia, as the tennis player's visa does not include data on a medical exemption from vaccination against coronavirus. As the Prime Minister noted Scott Morrison, Djokovic at the time of crossing the border "did not have a valid medical exemption from vaccination", which is a prerequisite for entering Australia.