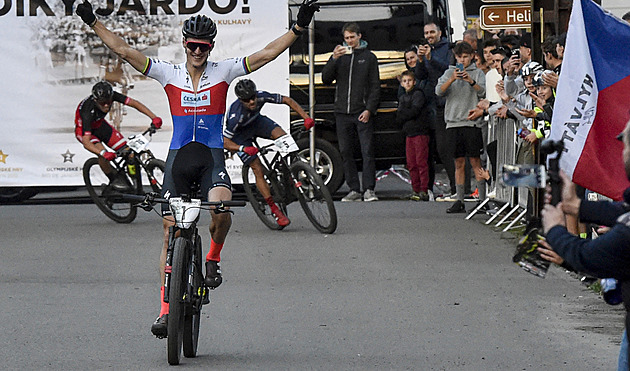 He completed his last professional race less than a week before today's farewell. On Saturday, he started at the World Marathon Championships in Denmark, but did not reach the finish line due to back pain. "I knew that I wanted to ride at a level where I would be satisfied with this one more season, which I think I did. Except maybe last week where it just didn't work out. But I expected that it would be 50/50, even with how difficult the preparation was," said Kulhavý in an interview for the mtbs.cz website.
"Of course it was disappointing. Basically, the whole season I rode trained at ninety percent, because I knew that if I rode at one hundred, something would always bite me. In short, I feel the limit at maximum intensity. However, I wanted to prepare for Denmark in such a way that I would be competitive even for the cross country racers. Maybe I overdid it a bit, the training was hard, maybe I lost a lot of weight, I don't know…" said Kulhavý, who went to the WC as a bronze medalist from the June European Marathon Championships in Jablonné.
"At the same time, we were preparing for today's event, the last two months were just a lot of it. It worked out the way it did, but I think I gave it 100 percent, so cool. I take the season as a whole. It could have been a bonus that didn't work out," said the four-time winner of the domestic poll King of Cycling conciliatoryly.
He originally wanted to end his career differently, but like many other athletes, the coronavirus pandemic forced him to change his plans. "Everything was complicated by covid, which pushed the whole thing by maybe two years. Of course, the plans were different. The plan was Tokyo, but everything got complicated there. Then I more or less decided that there was no point in continuing in cross country, because it would be a lost season because of losing points and other things," Kulhavý described why he switched to marathons at the end of his career.
"I started slowly and dealt mainly with this year. As for the program, because the European Marathon Championships were at home and there was an assumption that the World Marathon Championships should also suit me, plus other races such as the National Championships in Stupno and so on. I think it turned out great," said Kulhavý, who flashed second place behind current Czech number one Ondřej Cink at the July domestic championship.
In a way, Kulhavý was glad that Saturday's marathon championship didn't work out for him. "I had the idea that if it turned out well, I would definitely go to another event next year, maybe two or three events. I knew, however, that it would no longer be a pro, because on my part, it has not been a pro for about two years since covid, when I took up other activities. So now at least I'll get back to normal life faster. But I will definitely find a challenge in sports, but it won't be one hundred percent like it was before," said the man who won Olympic silver in Rio 2016 four years after gold in London.
He will not leave the world of mountain bikes completely, even if he will have other interests after his career. "I've got some ambassadorial stuff catching up, then I've got some real estate plans going, so I'm jumping right into it. Radim Kořínek and I do various cycling events for companies, so we'll see if there will be something within Dukla or the national team. It's all very open, I'll deal with it in the fall and winter. If there is interest and I can put everything together well, I would definitely like to stay with it, I don't want to get out of it completely," he said.