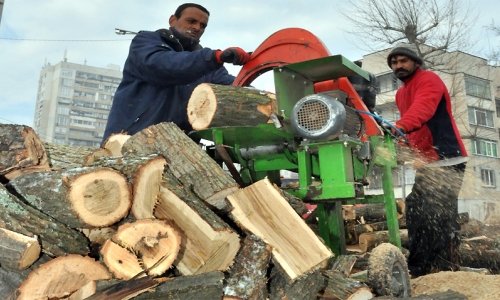 Today, Bulgaria provides firewood to those in need; by mid-September, 20,000 households in the country received firewood for the heating season.
According to bourgas.ru, today Bulgaria provides those in need with firewood, as of mid-September, 20,000 households in the country received firewood for the heating season. This was reported by the North-Eastern State Enterprise.
23,275 households from Northeast Bulgaria have already received the firewood they requested for the 2022/2023 heating season. 18 farms included in the SIDP system provided the population with firewood in the amount of 130,191 sq.m.
So far, 699 families have received 5,215 cubic meters of firewood from DHS-Verbitsa, DHS-Shumen has sold 11,753 cubic meters to 1,681 households, and DHS-Novi Pazar has met the needs of 1,435 people who requested 7,180 cubic meters of firewood. There are 560 people who want to heat with firewood in Veliki Preslav, and the amount requested and received by them is 3774 cubic meters. 3,608 families requested 10,427 cubic meters from DGS-Palamar, and all requests were fulfilled. And DGS-Smyadovo satisfied the requests of everyone who has applied to them to date. These are 636 families with 4068 cubic meters.
DHS-Varna has also delivered firewood to everyone at the moment – these are 183 households with 13582 cubic meters. 9682 cubic meters of 1225 families were requested from DGS-Tsonevo, 7448 cubic meters – 1482 people – from DGS-Provadiya, 1361 applications – from DGS-Suvorovo, while the requested and paid amount was 4611 cubic meters. DLS-Shcherba provided 1,343 families with heat for the upcoming winter, having already delivered 8,037 cubic meters of timber.
DGS-General Toshevo has also delivered all volumes requested so far – 5248 cubic meters for 1220 applicants. 3,929 cubic meters were received by 791 households from DLS-Tervel, and 9,832 cubic meters were transferred to 1,866 persons of DLS-Dobrich. In Balchik, 9,280 cubic meters were paid for at the request of 1,160 people.
To date, CJS-Targovishte has sold 11,082 cubic meters of firewood to 1,499 households, DLS-Cherni Lom – 3,493 cubic meters to 560 families, and CJS-Omurtag has satisfied the requests of 166 families for 1,550 cubic meters of firewood.
The leadership of the SIDP instructed all territorial divisions to provide firewood to the local population as a matter of priority, while deliveries under long-term contracts with large factories were minimized. Unburned wood, namely poplar and coniferous species, is transported to the factories. Priority is given to persons who have received solid fuel vouchers from ASP. At the moment, the sale of companies according to the price list is also limited, due to applications from individuals. All leshozes and hunting farms also provide root stands when there are people willing to harvest their own firewood.
The director of the enterprise and heads of farms are in constant contact with the mayors of the settlements to clarify the lists, and if necessary, the volumes are reduced to 5 cubic meters in order to provide everyone with heat for the first time. The population is given the opportunity to collect residual wood after the completion of cuttings in plantations.
This week another meeting of the director of the SID, engineer Radi Ivanov, with the directors of the territorial subdivisions took place, at which they reported that the supply of wood was going according to plan, despite the increased requests for this year. Last year, with an estimate of 90,000 cubic meters, 100,000 cubic meters were delivered to the population from the Northeast, and this year, with an estimate of 100,000 cubic meters, the population received 180,000 cubic meters. The supply of firewood is a little slower in the regional centers, where there are many times more people who want to heat with firewood. For example, requests to DHS-Varna are 82% more than in 2021. In August and September, much more wood was harvested and harvested on the company's territory than in previous months of the year in order to meet the increased demand. However, the farms continue to work and do everything in their power to satisfy the desire of the people.