News
How to create a neoclassical interior: design tips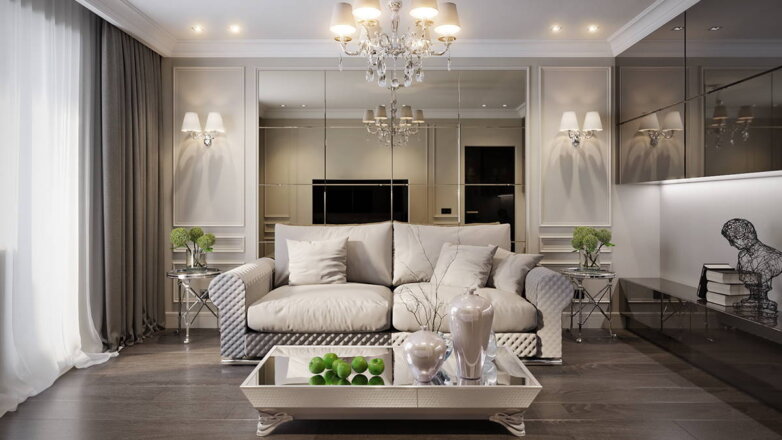 The classic style in the interior is not suitable for small apartments and low-budget repairs. Recently, neoclassical design has become popular.
The main features of the interior in the neoclassical style
Neoclassic is less demanding on the size of the premises. A beautiful interior in this style can be created at a lower cost. Portal "Ideas for your home" explainswhich creates a neoclassical style:
Symmetrical arrangement of interior elements with a clear center of composition.
Neutral color scheme.
High-quality, preferably natural materials.
Elegant furniture without excessive decor.
Plain surfaces with a minimum of patterns.
Using a small amount of stucco.
Maximum space in the interior, no unnecessary things in the rooms, visually high ceilings.
neoclassical colors
Designers advise using a palette of neutral natural tones for a neoclassical interior. White, light shades of gray, ivory, beige and brown are commonly used.
For accents, you can use pastel colors, dark contrasting shades or rich bright natural colors. They should be deep and subdued so as not to visually overload the room.
Neoclassical finish
Finishing materials in such an interior should look concise and expensive, designers advise. For walls, plain wallpaper or wallpaper with a restrained pattern, decorative plaster are suitable. In the kitchen and bathroom, you can use porcelain stoneware or marbled or natural stone tiles.
The floors in the rooms are best made of natural parquet or engineered boards, high-quality laminate is allowed. In wet areas, tiles, quartz vinyl or porcelain stoneware are laid.
Ceilings can simply be painted or stretched. In neoclassicism, decorations are welcome – stucco molding in the corners, graceful cornices, rosettes around lamps.
Furniture and appliances for the interior in the neoclassical style
It is not necessary to use furniture that is complex in shape and monolithic in appearance, which is recommended for a classic style. Suitable objects with smooth lines, tables and chairs with rounded legs, carriage screed on the upholstery of upholstered furniture.
Household appliances are best hidden behind cabinet fronts. You can use models that visually fit the classic style, but they can be expensive.
Decor
What decor elements are suitable for neoclassicism:
Framed paintings and graphics;
Wall mirrors;
antiques;
Stucco;
Vases, candlesticks, figurines;
Textiles from natural fabrics.
Designers are advised to find a middle ground in the amount of jewelry. In neoclassicism, there should not be too many of them, but it is not necessary to leave too few.