News
"The Zala drone is invulnerable to Ukrainian electronic warfare. They don't see him."
During a special operation Ukraine The Russian army is actively using Zala unmanned aerial vehicles (UAVs). They, in particular, are used to correct the work of artillery crews. Gazeta.Ru, together with military experts, figured out what these drones are capable of.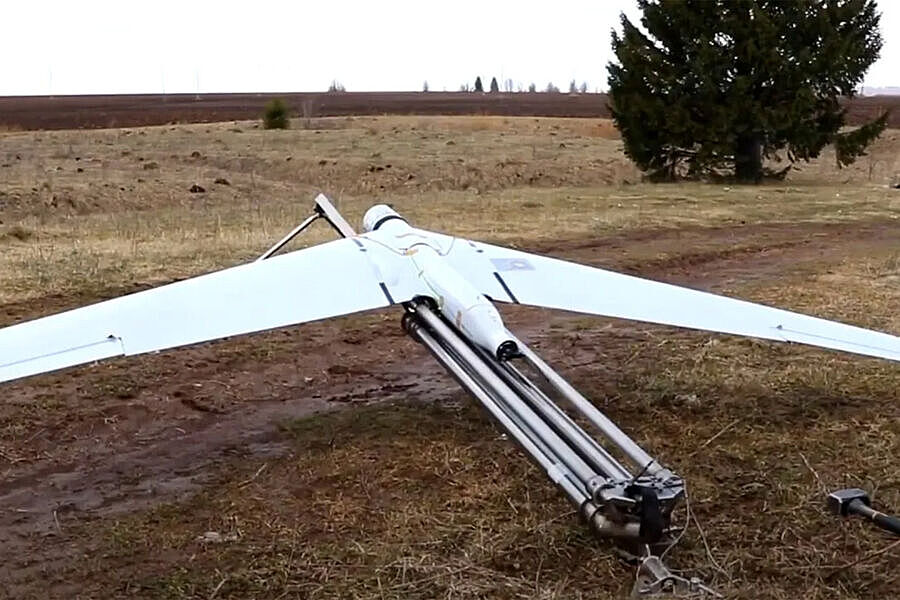 A photo: Newspaper.RuNewspaper.Ru
"Artillery units of the Russian army use the Zala drone to perform reconnaissance missions and improve the accuracy of fire. The drone allows you to detect and destroy a battery of 155-mm American howitzers M777 in Ukraine, "the American weapons portal Army Recognition notes.
The authors of Army Recognition claim that RF Armed Forces allegedly "changed tactics".
"Previously, for guidance, they used mainly air reconnaissance data, but Zala drones help more accurately, and most importantly, more quickly calculate the coordinates of the enemy. This greatly increases the effectiveness of artillery and simplifies the aiming of fire at the positions of the Armed Forces of Ukraine, "adds Army Recognition.
Zala is not one, but a whole series of unmanned aerial vehicles. Unmanned mini-aircraft of the Zala 421-04, Zala 421-08 and 421-16 projects are capable of operating within a radius of 15 to 40 km, stay in the air for up to 2.5 hours, and their payload mass is 1.5 kg.
Aircraft-type drones Zala 421-20 are larger. Their range is up to 120 km, the flight time is 11 hours, the mass of the target load is up to 50 kg. They can combine various systems on board, including air navigation systems, automatic data decoding and laser target designation.
Drones Zala "Lancet" perform shock functions. These are loitering ammunition or kamikaze drones. They can hit targets within a radius of up to 40 km. Maximum takeoff weight – 12 kg, operating time – 5 hours.
Finally, the Zala 421-02 and Zala 421-02X helicopter-type drones can operate for 6 hours at a distance of 50 km and carry a load of 50 kg.
"Initially, these drones were intended for use by the Border Guard Service. FSB of Russia and Russian Emergency Situations Ministry. The Ministry of Defense became interested in these UAVs because of their ability to conduct reconnaissance at a considerable distance and "hover" in the air. At the same time, send a clear signal with the coordinates of the targets. Now such drones are in service with motorized rifle and airborne units that take part in a special operation, "a member of the Collegium of Military Experts told Gazeta.ru Sergey Belousov.
In turn, a military expert, retired Air Force Major General Igor Lyutykh, noted such a feature of Zala as "a well-encrypted communication channel."
"Firstly, these drones are very maneuverable. Secondly, they have a closed and well-encrypted communication channel. This makes the drone practically invisible to the APU radar equipment. Their detection and, accordingly, destruction is extremely difficult. The Zala drone is almost invulnerable to Ukrainian electronic warfare. They don't see him. Of course, it can be shot down when it is in the line of sight, but the Armed Forces of Ukraine cannot suppress it by means of electronic warfare, "says Lyutykh.
The general added that another feature of the Zala family of drones is the use of two types of guidance systems simultaneously: it can be controlled both via a radio channel and operate completely autonomously.
"This further confuses the APU. The drone at one point in time is controlled in manual mode, and at another, it completely "eliminates" communication with the operator. Thus, even if at one moment the enemy detects him on a signal, then at the second he loses. And so I have to look again. And so on ad infinitum," the general explained.
"Now every airborne formation has companies of reconnaissance drones.
This is a new direction, but already well tested and proven. Our paratroopers used the Zala UAV in Syria and now, during a special operation in Ukraine. For several years now, the base of the Ryazan Airborne School has been used to train drone operators.
They train real professionals who are able to control complex air systems designed for reconnaissance, artillery fire adjustment, "the former commander of the Airborne Forces, Colonel General, told Gazeta.Ru Georgy Shpak.