News
Opponents of QR codes tried to break into the Chelyabinsk Legislative Assembly – RBK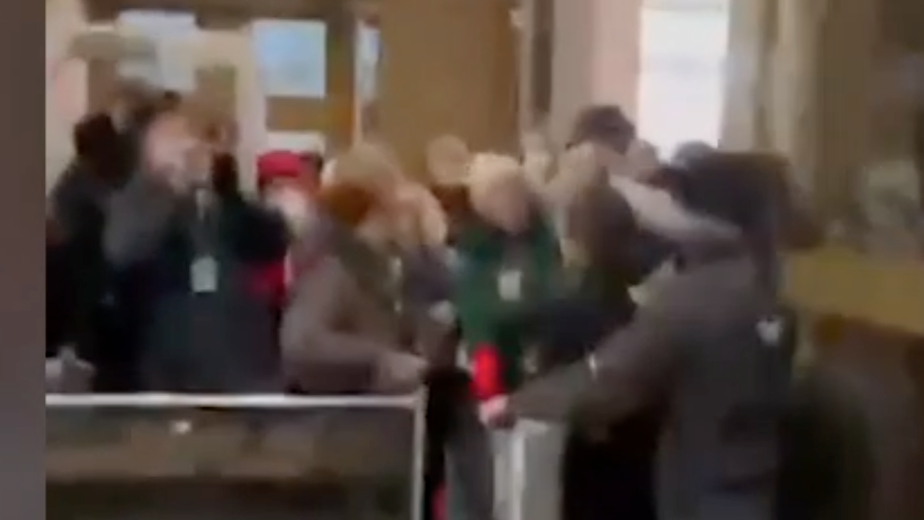 Video
Opponents of the introduction of QR codes in the region attempted to break into the territory of the Legislative Assembly of the Chelyabinsk Region. RBC was informed about this in the press service of the regional parliament.
"People were a little emotionally agitated, they tried to break into the session of the Legislative Assembly. There was more likely not a fight, but shoving each other. Certain actions were, probably, they will be dealt with by law enforcement agencies, if appropriate statements are made to them, "they said.
The parliament also clarified that the police arrived at the scene, but no arrests were made, since by that time the situation was calm.
"We could not interrupt the meeting, give them [активистам] break into the hall, then, probably, the meeting would have been disrupted. There is a certain procedure for the presence of citizens and public associations at a meeting. It is registered in the regulations of the Legislative Assembly, "the press service said.
According to the press service, initially the chairman of the committee on social policy Sergei Buyakov came out to the group of people, who tried to "calm them down as much as possible." As the deputy himself clarified to RBC, the audience opposed the adoption of a resolution to support the introduction of QR codes. "I talked with people, of course, the situation was tense, there were emotions, heightened tones <...> We figured out the situation, talked with people," he said.
According to Buyakov, the protesters had two main demands: to allow one of the leaders of the movement to speak at a session of the legislative assembly and to accept their appeals to the deputies.
Due to the increase in the incidence of COVID-19 in Russia over the past months, the government made to the State Duma a bill on the mandatory introduction of QR codes in intercity and international transport – on trains and airplanes, as well as in public places. In the Council of the State Duma considered amendments and sent them for a month to the regions, the Accounts and Public Chambers, as well as to the Federation Council for discussion.
After that, in some regions of Russia started take part in unauthorized protests against vaccinations and mandatory QR codes. By data service SuperJob, only 14% of Russians supported the introduction of QR codes in transport. Of these, the least enthusiasm was shown by residents of Chelyabinsk (4%), Yekaterinburg (6%) and Omsk and Nizhny Novgorod (12% each).
By information headquarters, in the Chelyabinsk region, 635 people were infected with COVID-19 per day, another 30 died. In total, more than 123 thousand cases of the disease were detected in the region, almost 5 thousand people died.
How the number of deaths from Covid-19 in Russia is changing
Daily data of the operational headquarters
Source: federal and regional headquarters for the fight against coronavirus
Data for Russia i