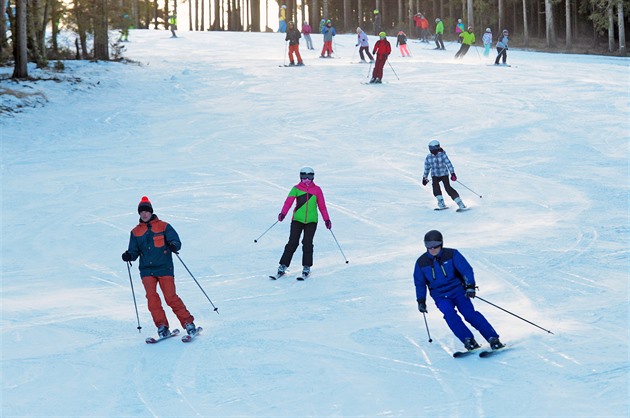 Nevertheless, a clear message comes from the largest area in Klínovec: "We will fix the slopes, no matter what!" According to the owner of the Klínovec Ski Area, Peter Zeman, they can no longer afford to keep the slopes closed due to loyal clients.
"Even if we end up losing, the upcoming season will be unlimited. We will drive in full traffic," promised Zeman. He doesn't hide that it will be complicated. "Ceiling electricity prices at ten crowns is terrible, but still better than nothing," he stated.
He then announced in advance that the situation would require an increase in fares. "But not dramatic," he pointed out.
According to Zeman's assumption, the price will increase by ten to eleven percent at the ticket offices directly at the slopes, and by seven in online advance sales.
They don't know yet if they will open in Plešivce
Just a few kilometers further, at the top of Plešivka, the cautiously optimistic mood no longer prevails.
"I don't know if we'll open yet," said Petr Voráček, the manager of the ski resort. In his opinion, most operators of ski areas are looking for economical variants of operation in the coming season. "We have only considered one so far. Do not open," said the executive.
But that was before the price ceiling. Now they are considering different options in Plešivec. Maybe make it snow and open only part of the area later. "But it's not that simple either. The individual slopes are so interconnected that it is difficult to operate only a part of them," Petr Voráček outlined a possible problem. In his opinion, what the season will look like in Plešivec will be clearer in November.
Bublava hopes that the higher prices will not deter people
The owner is not worried about the closure of the Bublava Ski Resort. He believes that domestic and foreign guests will prefer the Czech slopes to the Alps.
"We will have to raise the price of ski passes for this season, but reasonably so. It will certainly not be by several tens of percent, but other centers are also becoming more expensive, so we are not an exception. We are not afraid of losing visitors. However, this year's energy prices will be devastating for many campuses. We are mainly visited by German and Czech clients, and despite the more expensive fuel, it will be cheaper to ski in the border area than in Austria or Italy," said Bublava area director Jiří Lhota.
"The most expensive part of all of this will be energy consumption on lifts and fuel for scooters or cars. The operation of the snowmaking system is also very expensive, without it the campuses cannot even open. We have the slopes and the entire area ready for this season, and we firmly believe that the increased prices will not deter visitors," added Lhota.
The high costs of making snow on the slopes could be relieved by an abundance of natural snow. However, Rudolf Kovařík, a weather observer from Šindelová, does not dare to guess how much it will be at the beginning of winter.
"It will start sometime after November 4th. The beginning of winter will be richer in precipitation, but whether it will be snow or rain, according to the current indications, it is difficult to say. Nothing is certain until December. And it is still too early to make a forecast for January and February of next year," hinted Rudolf Kovařík.