News
The State Duma proposed to allocate ₽400 million to the Zhirinovsky Institute – RBK
In 2022, the university may receive 400 million rubles – 50 million more than in 2020. Earlier, the funding of the Institute of World Civilizations was increased six times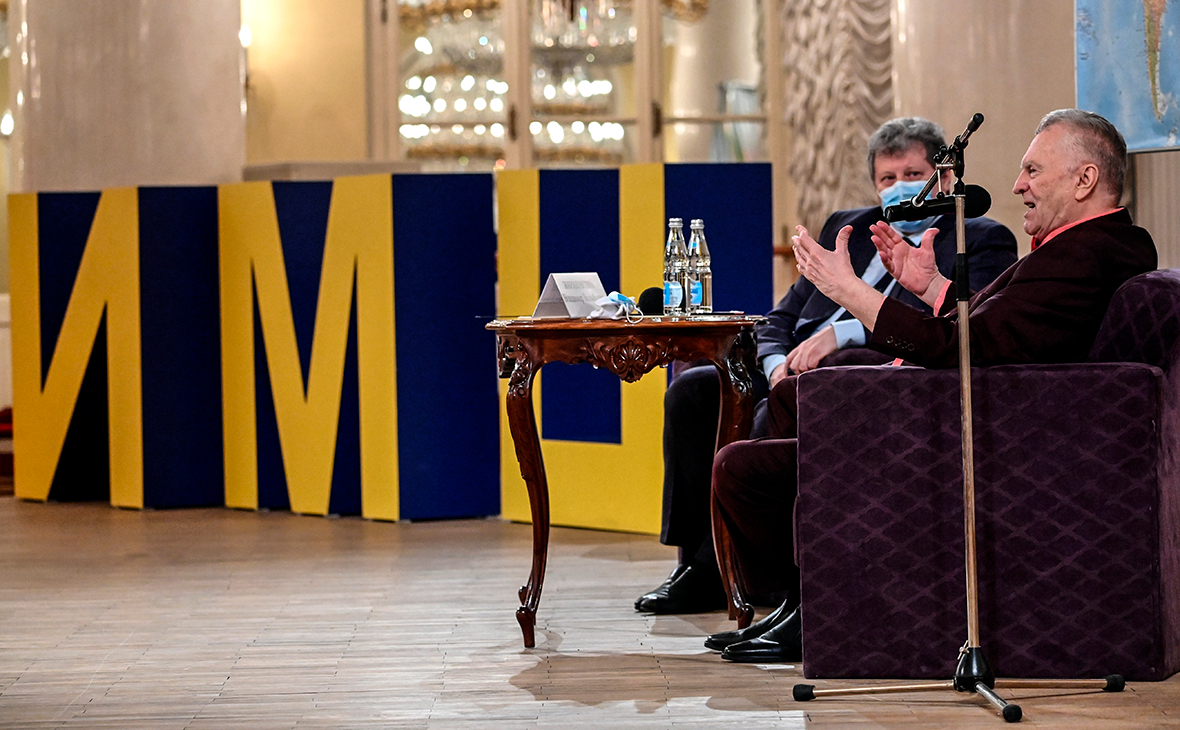 Vladimir Zhirinovsky and the rector of the IMC Oleg Slobodchikov (from right to left)

(Photo: Grigory Sysoev / RIA Novosti)

The Institute of World Civilizations founded by Vladimir Zhirinovsky has been proposed to allocate 400 million rubles for 2022. This follows from the amendment to the draft federal budget on socially oriented NGOs, introduced for the second reading by a group of deputies. Among the authors of the amendment are Speakers of the Houses of Parliament Valentina Matvienko and Viacheslav Volodin, as well as many high-ranking senators and deputies. The State Duma will consider the draft budget in the second reading on Tuesday, November 23.
In the last year's budget, the institute was planned to allocate 513 million rubles, and for 2022, 126 million rubles were initially allocated. In 2020, in the report on the expenditure of funds, the institute reported spending 369.7 million rubles. A year earlier, as wrote RBC, the authorities decided to increase subsidies for it almost six times – from 60 to 353 million rubles. Zhirinovsky then explained the increase in funds by the need to repair the building transferred to the institute by the Russian Academy of Sciences.
The current allocation of funds is also associated with repairs, explained RBC in the press service of the Liberal Democratic Party. "The university is growing, getting new premises, they also need to be repaired," they said. – Go to Leninsky Prospekt, 1 [это адрес института — РБК] and look: there a multi-storey building stood for decades without repair, everything is in the woods. "
The Institute was founded in 1999, its founders are the Liberal Democratic Party and its leader Vladimir Zhirinovsky. In 2017, sources of RBC told that the head of the Liberal Democratic Party of Russia appealed to Vladimir Putin with a request to provide his institute with new premises in the center of Moscow. As a result, the government conveyed under the jurisdiction of the institute, a 15-storey building belonging to the Russian Academy of Sciences on Leninsky Prospekt, for the repair of which subsidies are allocated.
The leader of the Liberal Democratic Party of Russia has repeatedly noticedthat the Institute of World Civilizations is "not a" Zhirinovsky Institute ", but a higher educational institution, which has an administration independent of the Liberal Democratic Party and is governed in" strict accordance with Russian legislation on higher educational institutions ". "I helped found it 20 years ago, but I do not hold any positions at the institute and do not take any part in its management," he said. Nevertheless, a video with Zhirinovsky's participation and his photograph are posted on the main page of the university website, and students are offered internships in the Moscow and regional branches of the Liberal Democratic Party.