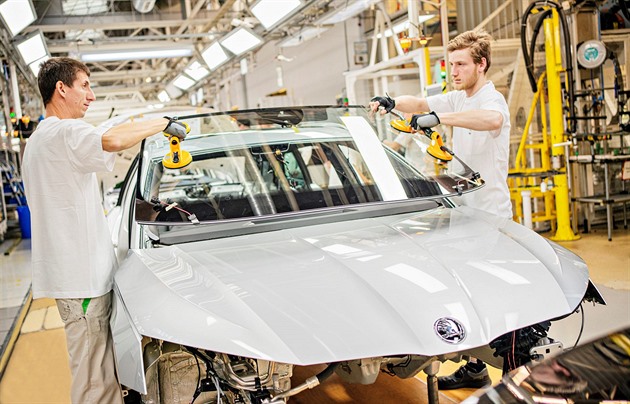 "Of course we are dealing with issues of how to be more energy efficient, but for example, paint shops need heat, which is produced from gas. So if the gas supply is cut off, we won't make any cars. We are very dependent on many factors, and it is currently a topic that is very busy for us," said Klaus Zellmer, the new head of Škoda Auto, Klaus Zellmer, in an interview for iDNES.cz a few weeks ago.
And Zdeněk Petzl, head of the Association of the Automotive Industry, joins. "We've been trying to explain this to our government for a long time," he says urgently and with unusual seriousness. "It's a reality. The price of gas is becoming absolutely unacceptable for manufacturers. Up to 180 to 200 euros per MWh, it was still bearable. But above that, it's indigestible," explains Petzl to iDNES.cz, according to whom today about thirty percent of component suppliers buy gas at prices on the spot market, which are directly linked to the movement of prices on the stock exchange. According to Petzl, up to 60 percent of companies in the automotive industry will buy "on the spot" from January 1.
According to the head of the association, extreme low prices are bothering tens of percent of Czech suppliers for the automotive industry, and according to Petzl, their share can grow very quickly.
"Politicians must limit the current uncontrolled explosion of gas and electricity prices," said Thomas Steg, who is in charge of external relations at the Volkswagen Group. "Otherwise, especially small and medium-sized enterprises with high energy consumption will have problems in the supply chain and will have to limit or stop production," he added.
"Whoever has a little power will limit production and it will go outside the EU. Europe must take immediate measures that will be systemic," urges Petzl.
And this is alluded to by the representative of the Volkswagen concern with his current statement. "When the supplier leaves, the customer, i.e. the car company, also has a problem. When such an outage occurs, it's a matter of half a year to find a replacement supplier for the component," explains Petzl. And he presents an expected scenario: they will be replaced by predatory Asian competition, especially from China.
According to Bloomberg, a Volkswagen spokesman said that southwest Europe or the coastal parts of northern Europe, where there is better access to maritime supplies of liquefied natural gas (LNG), could benefit from the shift in production. Volkswagen already produces cars in Portugal, Spain and Belgium, i.e. countries that have LNG terminals.
The situation surrounding Russian gas supplies became more complicated when Russia launched an attack on Ukraine in February this year and the European Union adopted a series of anti-Russian sanctions in retaliation. Russia is limiting supplies to the EU, citing technical problems caused by sanctions. However, the European Union claims that the technical problems are just a pretext and that Moscow is using the gas as a weapon to advance its interests.
Prices tenfold
"Electricity and natural gas prices are ten times higher than a year ago. Their growth already threatened energy-intensive operations, such as foundries, at the beginning of the year, but now it affects almost every production," comments Miroslav Dvořák, Chairman of the Board of Motor Jikov Group. "She will give people a few thousand for electricity, but when companies go bankrupt, it will cost multiples of what she would give to support companies in unemployment benefits and other benefits."
"We got into a difficult situation in Europe partly by ourselves. The green policy of the Green Deal, the accelerated decommissioning of nuclear power plants in Germany, which leads to a critical dependence on Russian natural gas, our inability to solve the energy future of the Czech Republic, dependence on the energy exchange in Leipzig, all this creates a gloomy economic picture. Add to that, of course, the insane humanitarian disaster that is the war in Ukraine with all its consequences," he says, adding harshly that the state is resigning in an absolutely scandalous way from helping companies that have been affected by increased energy costs since the beginning of this year.
"The European Union directly encouraged the so-called Temporary Crisis Framework, which makes it possible to break the general rules of the unified energy price market, to support the most affected companies, where the energy intensity is high. The government had prepared 21 billion crowns, but eventually backed out. It seemed too much to them," comments Dvořák, adding that the prices of electricity and gas have already risen to such absurd heights that a unified intervention by the state, and preferably the European Union, will be needed. "Today, electricity is closely linked with gas, because, to put it simply, its price is determined by the most expensive source in the entire energy mix. This is today's steam-gas power plants, which consume two megawatt-hours of gas to produce one megawatt-hour of electricity."
According to Miroslav Dvořák, intervention such as closing the stock exchange, calming the situation and a systemic solution is needed. "In the first half of the year, we purchased electricity for an average of 240 euros per megawatt hour. Despite the increase in our selling prices, this meant a loss at the foundry in six months. Currently, however, electricity prices for the following months are triple."
Moving the factory
However, moving such a volume of production, which Volkswagen is talking about, seems rather unrealistic. Škoda in the Czech Republic produced 625,000 cars in Mladá Boleslav and Kvasiny last year, and 423,000 gearboxes in Vrchlabí. It employs over 35,000 people in the Czech Republic.
The construction of the factory itself will take several years, including the selection of the location and handling of the formalities. A huge problem is just finding a suitable location – a large enough plot of land with a link to infrastructure, availability of labor and other related issues.
A similar problem, on a smaller scale, is currently being solved by Volkswagen because of its factories for battery cells – the so-called gigafactory. One of them could grow in the Czech Republic, and just finding a suitable large enough plot of land was a problem that could only be solved at the price of concessions.
An example is the factory of the American electric car company Tesla near Berlin. It managed to start production two years after the foundation stone was laid. The decision to build a factory in Germany was announced by its boss Elon Musk in November 2019, the first Made in Germany tesla drove off in March 2022. However, it should be specified that Tesla is an extremely flexible company with hugely accelerated processes and uncompromising direct management by Elon Musk. Among other things, Tesla started work on the construction site before the building permit was granted.
On the other hand, the Volkswagen concern is probably the most tied-up car company in the auto industry, its previous boss Herbert Diess himself publicly declared that he had to fight with its huge ossification. Moving production out of Germany is also unrealistic due to the enormous power of unions, which have a big say in company decisions. In addition, the second largest shareholder of the company is the federal state of Lower Saxony, which holds 20%.
Volkswagen is talking about the transfer of production, that is, the transfer of the production line, even so it would probably be necessary to acquire some new production equipment. However, even those are in extreme short supply on the market today due to the lack of components, materials, and chips. So the production of production technologies also depends. In addition, the Wall Street Journal wrote in May this year that the demand for robots is rising extremely, even by 40 percent for those used in the automotive industry.