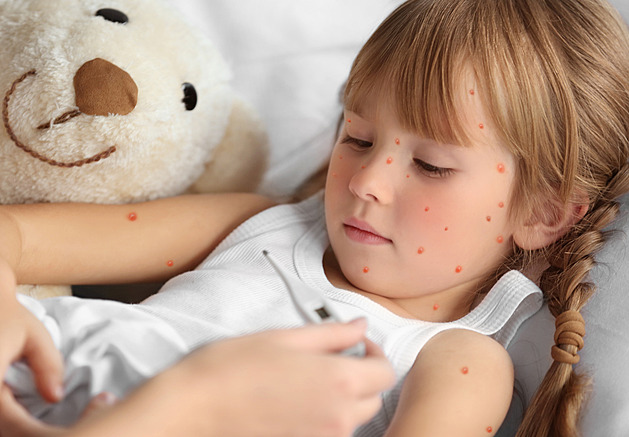 Specifically, 6,861 people were infected with this highly infectious disease in the region, which is ten times more than in the same period of 2021, when statistics indicate 602 patients.
"We currently have 50,000 cases reported in the country, which is the highest number in the last ten years," confirmed the growing wave of infection, spokeswoman for the State Health Institute, Štěpánka Čechová. "However, it should be mentioned that the two previous years, on the contrary, the reports were below average, which we attribute to the fight against covid. It can be said that the children who did not catch the virus last year or the year before, must pass the test."
According to experts, by a rough estimate, the number of possible cases in the Czech Republic could rise to sixty-five thousand infected by the end of the year.
"Measures against covid have also prevented the spread of other airborne diseases, such as flu, rubella, measles, but also chicken pox," confirmed Petr Kümpel, head of the infectious disease department of the Opava Silesian Hospital.
Therefore, according to him, there are currently many susceptible individuals in the Czech population who can become infected with both chicken pox and other airborne diseases.
"It will be very interesting to observe whether, for example, the wave of flu, which has also occurred only sporadically in the last two years, will copy the invasion of smallpox," added the primary, who recommends considering flu vaccination these days.
Deliberate infection is not advisable
Doctors are expecting an increase in chickenpox patients now that children have returned to school.
"We would like to point out that it is not very appropriate to let children get infected on purpose, as practiced by some parents who, for example, organize so-called infection parties with sick people so that healthy children get infected and have chicken pox behind them," urged Čechová.
"According to her, parents cannot know what their child's current immune and health status is, and by intentionally infecting them, they can expose them to another disease that is still developing. The course of two diseases could be highly risky and it is pointless to deliberately expose a child to something like that," pointed out the spokeswoman of the State Health Institute.
Hygienists continue to monitor cases of monkeypox, even though the Czechia is not one of the areas with a high incidence of this infection. To date, doctors have recorded over sixty-six patients in six regions.
Monkey pox has so far avoided the region
The disease has so far avoided the Moravian-Silesian region. "I do not consider either of these diseases to be a greater threat to our population, although there has been a case of monkey pox in recent days in a childwhich is very rare, and one of the Czech patients died," Kümpel warned, noting that both infections can cause serious complications in rare cases.
In the case of chicken pox, it is mainly inflammation of the central nervous system or perhaps damage to the fetus in pregnant women. Monkey pox can be life-threatening if the infected person suffers from a severe immune disorder.
"While smallpox is easily spread through the air, monkey transmission requires longer and closer contact with the sick person. For this reason, I do not expect a larger increase in the number of patients, which would be comparable to, for example, today's numbers for chicken pox," added Kümpel.
Doctors currently have effective vaccines against both diseases. However, these are applied to patients only at their request and are not yet covered by health insurance.