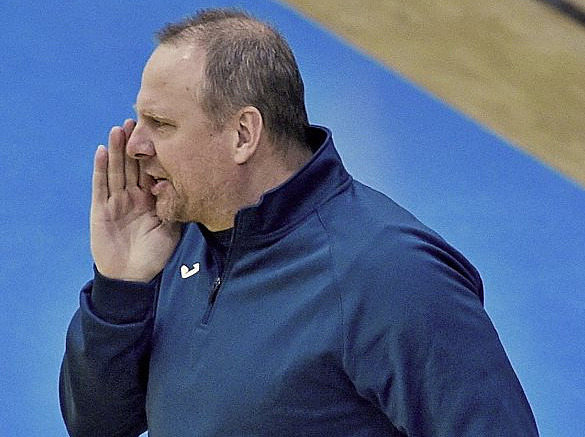 For the first time since 2009, the Dukla Liberec volleyball players will be led by a coach other than Michal Nekola at the start of the new season. He was dismissed last year at the end of November due to poor results, Petr Brom then completed the extra-league season, and from the beginning of this year's summer training, coach Martin Démar took charge of Dukla's men, who was on the Příbram bench last season and previously worked successfully for many years as a player and coach in France.
"I always wanted to coach Dukla and finally my dream came true," admitted the fifty-three-year-old coach of Dukla Liberec volleyball players, Martin Démar. "I'll be happy if we get into the elite four and fight for medals."
After returning from France, you coached Příbram last season, how did you get the position of coach of Dukla Liberec?
We had been in France for twenty-three years, we already wanted to return because we missed it, and because of our already elderly parents, the return was planned. I had some success in France and achieved something there, so I secretly hoped that one day I could manage one of the best teams in the Czech Republic. But it wasn't that simple, and that's why I was very happy a year ago that Příbram took me. With that, I showed myself again in the Czech environment. I wanted to get a good result with Příbramí, which I did, because after the regular part of the extra league, we were third. And because Liberec, on the other hand, had a bad season, Dukla director Pavel Šimoníček approached me already in January if I would like to train Liberec from the new season, and my answer was very quick and positive.
Dukla Liberec volleyball players in the 2022/2023 season
Recorders: L. Ticháček, Š. Bryknar. Universal: F. Gavenda (Slovak), P. Jemeljanovs (Lat.). Smashers: M. Lux (Slovak), L. Démar, Nivaldo (Cub), T. Hendrich. Blockers: Š. Krajčovič (Slovak), J. Veselý, K. Nikačevič (Chor.), L. Staněk Jr. Libera: J. Pavlíček, S. Maar (Est.).
Why?
Dukla still belongs to the top teams and I have a relationship with it. For many years, my friend Michal Nekola trained here, I often went here to see him, and you can say that I didn't go into a completely foreign environment and that's why the decision was easy.
So you had enough time to create your squad for the new season. How satisfied are you with his transformation?
According to my original ideas, it is eighty percent. We wanted to bring one more sweeper, but that didn't work out, the approached players accepted other offers. So I decided to keep the Cuban Nivaldo here. He is a talented sweeper, he has an incredible jump and we will see if he improves… And if there was a problem, the market is still open and around Christmas we would possibly react somehow.
What did the summer training show you?
I am especially happy that we played a very well-attended tournament in France. We also completed domestic tournaments and it showed me that we still have some restlessness at the end, for example at 20:20. It's because the team is new and not that mature yet, in short, they're still looking for the right leader. But I believe that during the month, in sharp matches, it will become clear who will really lead the team.
Shouldn't the leader be the experienced forty-year-old recorder Ticháček, who returned to Dukla after many years and became the captain?
As a player and a person, Lukáš Ticháček is rather discreet and does not give out unnecessary energy. At his age and with his experience, it is enough for him to say one sentence at the right moment. We need a leader there who talks and communicates with others throughout the match. We definitely have types for this role, but we are still looking.
Next matches
Saturday, September 24:
Venice, New York – DUKLA LIBEREC (18:00)
Thursday, September 29: DUKLA LIBEREC – Karlovy Vary Region (18:00)
Saturday 1 October: Beskydy – DUKLA LIBEREC (17:00)
Thursday 6 October: Ostrava – DUKLA LIBEREC (17:00)
Saturday, October 8: DUKLA LIBEREC – Ústí n. L (18:00)
The season is just starting, but what would you be satisfied with at the end of it?
It must be said that the Czech Extraliga is going up a lot. There are finances here, it doesn't attract players as much as it did during my career, and there are a number of quality foreigners. For example, I see six aspirants for the title, of which Karlovy Vary is the biggest for me. And Dukla Liberec? Honestly, I will be happy if we get into the elite four and fight for medals. Failing that would be a failure that would follow me.
The Extraliga will start on Saturday in the rookie hall in Venátky nad Jizerou, what kind of match are you expecting?
Our boys will probably be nervous because we are definitely the favourites. We must certainly enter the match with humility and respect for the opponent, at the same time not to panic and believe in our abilities, because we certainly have quality in the team.
Let's come to you personally. You spent many years in France, what do you miss the most after returning to the Czech Republic?
If I simplify it, it's probably French wine and food. When you come to the store there, the fish, shrimp, oysters, salads or fruit literally laugh at you. It's just a difference, here many times I really don't know what to buy, and I end up with a crush. There I lost five kilos, here I gained five kilos. Of course, I am happy to be back in the Czech Republic, but France is my second home, after all, I was there for twenty-three years.