News
Who is included in the list of Rusnano creditors. Infographics – RBK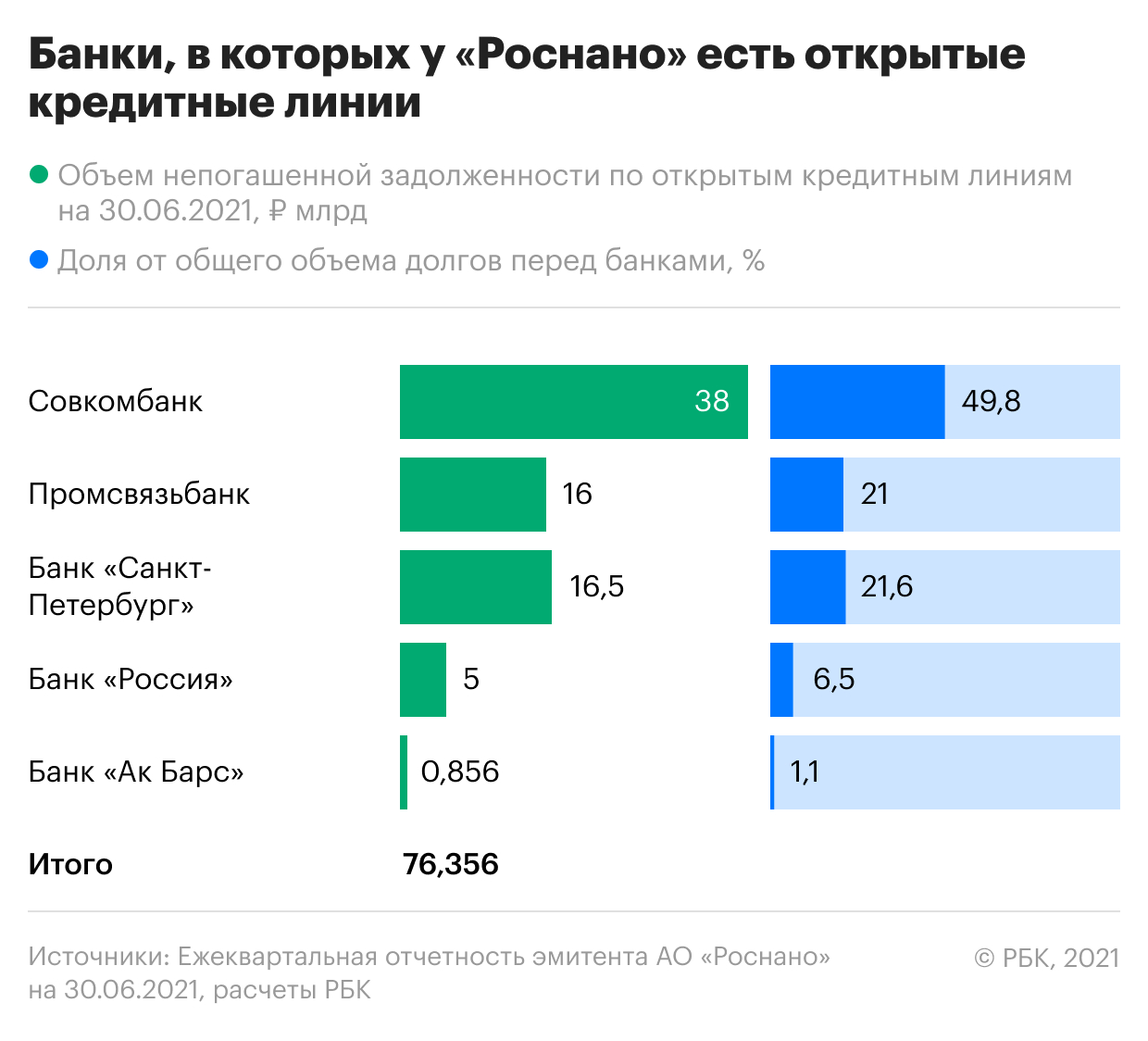 The first deputy chairman of Sokombank, Sergei Khotimskiy, explained to RBC that Rusnano's debt to its credit institution was secured by state guarantees. "As for loans under state guarantees, default on them is excluded. More precisely, it is as likely as Russia's sovereign default, "said Khotimskiy, specifying that the loan is serviced without delays.
"At the moment, the debt is serviced on a regular basis, delays were not allowed," Airat Sharapov, director of the financial department of Ak Bars, told RBC. Representatives of the bank attended a meeting between Rusnano and investors on November 19, but the credit institution did not receive a formal request for debt restructuring.
The representative of Bank Saint Petersburg noted that the obligations of Rusnano to credit institutions are "secured by state guarantees" and the current situation will not affect the financial condition of the bank.
Promsvyazbank and Bank Rossiya did not respond to RBC's request.
When and what bonds were placed by Rusnano
Rusnano has nine bond issues. Securities of three series (06, 07, 08) for 31.4 billion rubles. with maturity in 2022 and 20208 covered by guarantees of the Ministry of Finance, bonds for 40.18 billion rubles. have no protection. In December, the company will have to pay coupons for five series of securities and redeem one bond issue worth 4.5 billion rubles. By the end of the year, the bonds of the company should go through payments for 5.9 billion rubles, follows from the data of Cbonds.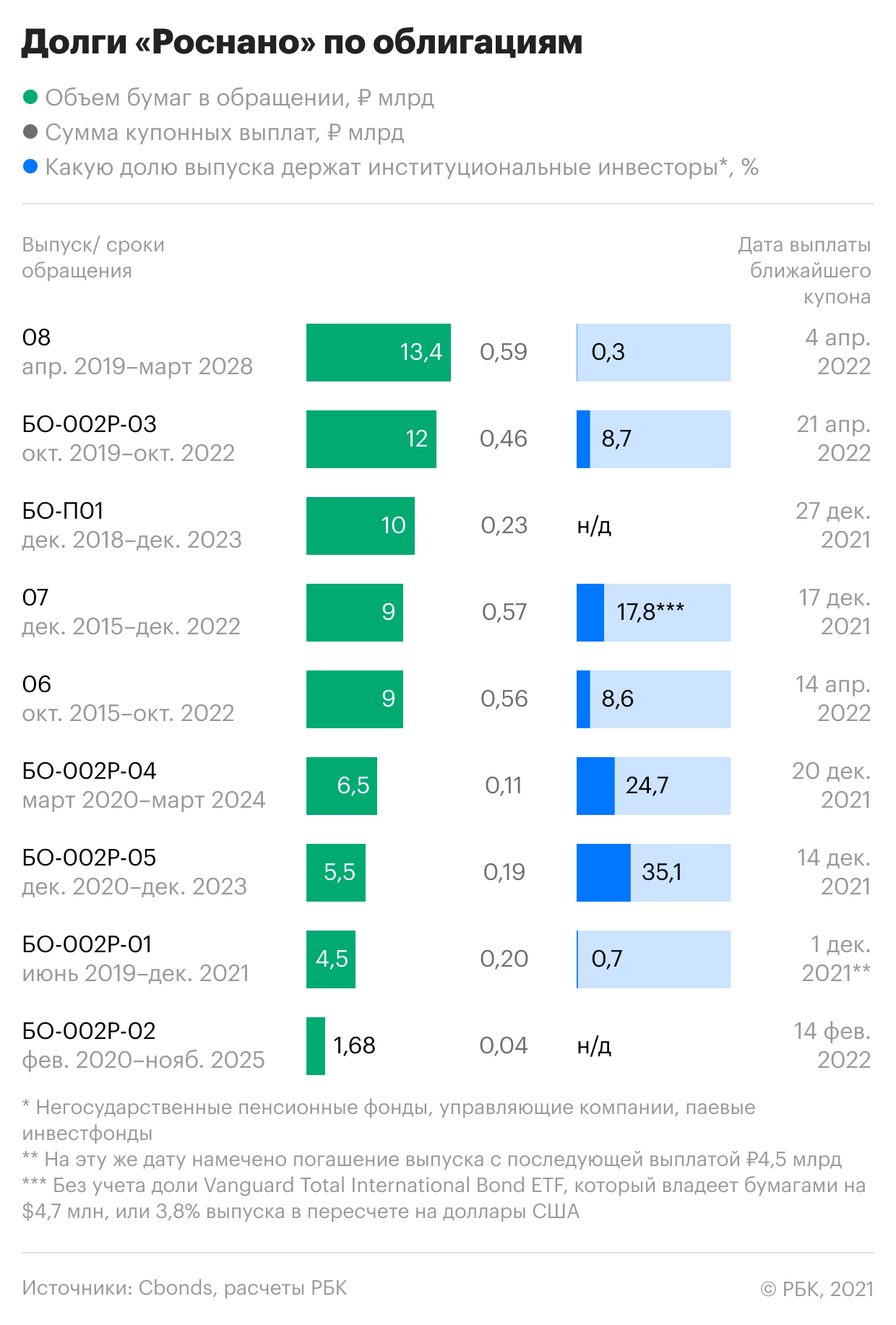 Which investors in Rusnano bonds are known about?
Only institutional investors disclose data on investments in bonds; banks and private investors are not required to do so. RBC studied the lists of investors who disclose information on bonds. Institutional investors are present in only seven issues (for 59.9 billion rubles) out of nine, according to Cbonds data. The share of their investments varies from 35 to 1%, depending on the issue.
Among them, the leading non-state pension funds (NPF), which invested 4.3 billion rubles in the securities of a state-owned nanotechnology company, or 7.2% of the volume of seven issues where there are institutional investors. 2.9 billion rubles (4.8%) falls on mutual investment funds (unit investment funds).
The structures of the Region-Rossium group (NPF UGMK Perspektiva, Big Pension Fund, NPF Decent Future, NPF Doverie) hold Rusnano bonds worth 2.04 billion rubles. VTB structures (mutual funds "VTB – Russian corporate bonds smart beta", "VTB – Treasury fund", "VTB – Balanced fund", "VTB – Mixed investment fund", as well as NPF "VTB Pension Fund") have about the same number. The third place belongs to the structures of Ingosstrakh – mutual funds Ingosstrakh Kaznacheyskiy, Ingosstrakh Bonds, Ingosstrakh Corporate bonds and NPF Socium, which hold bonds for 1.05 billion rubles.
The pension division of the Region Group of Companies noted that they had not yet received proposals from Rusnano on restructuring or any other way to resolve the debt situation. The volume of NPF investments in Rusnano bonds is considered uncritical there. Representatives of VTB and Ingosstrakh declined to comment.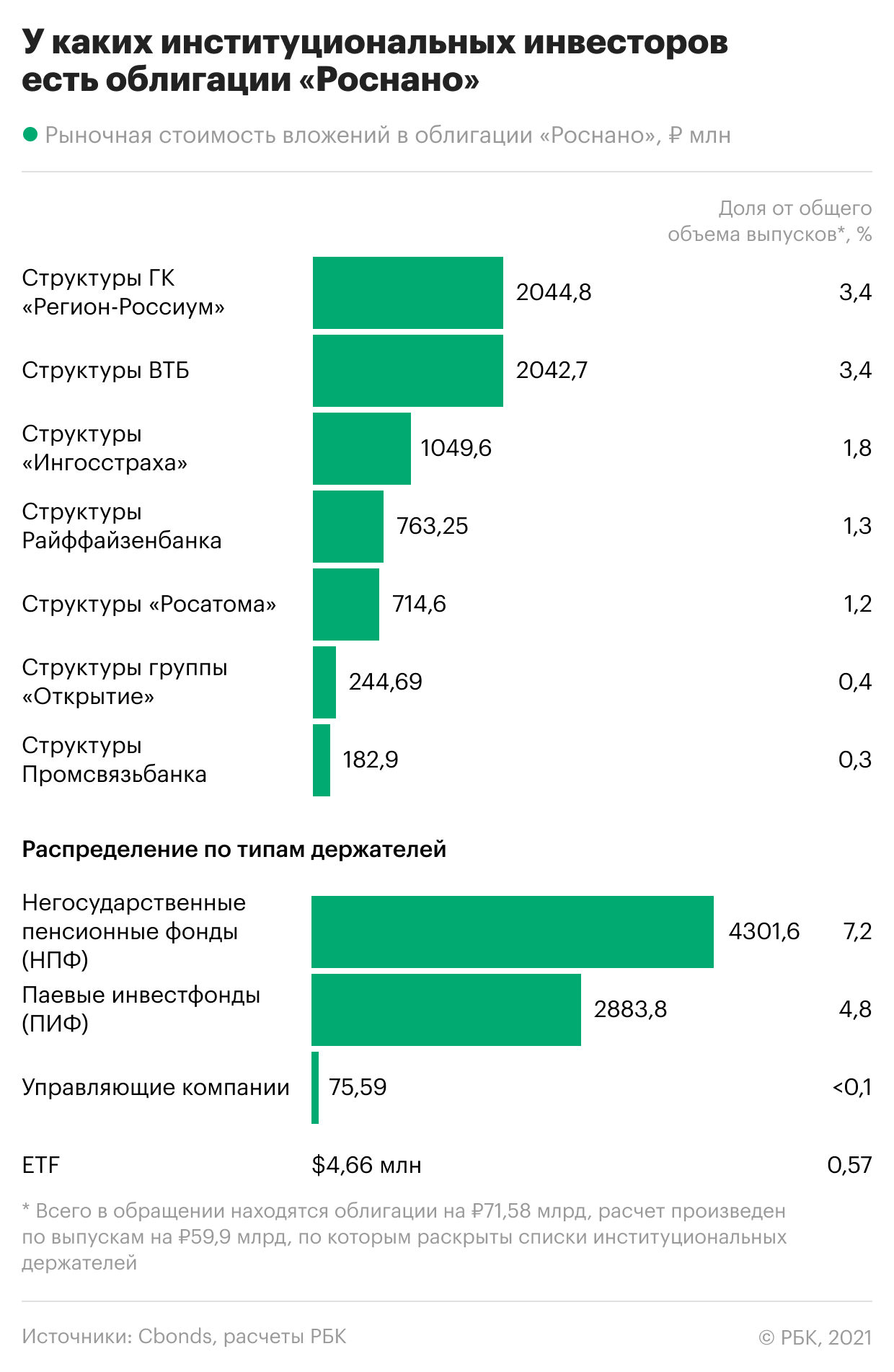 Which bank placed Rusnano bonds?
"Banks are not obliged to disclose their portfolios of securities, so we do not see them," explains Pavel Mitrofanov, Managing Director of Expert RA. He does not exclude that at the stage of placement, part of the securities could be bought by the issue's underwriters – banks or brokerage companies. "The terms of cooperation with the organizers are not public. Someone gets into a deal with guarantees [выкупа при размещении], someone – without guarantees. It all depends on the willingness of the issuer to pay a commission, liquidity in the market and the need for the speed of placement, "says the analyst. Underwriters generally have no obligation to hold bonds until maturity, he adds.
According to Cbonds, its creditor banks helped to place Rusnano's debt securities in different years. For example, Sovcombank, Ak Bars and Promsvyazbank.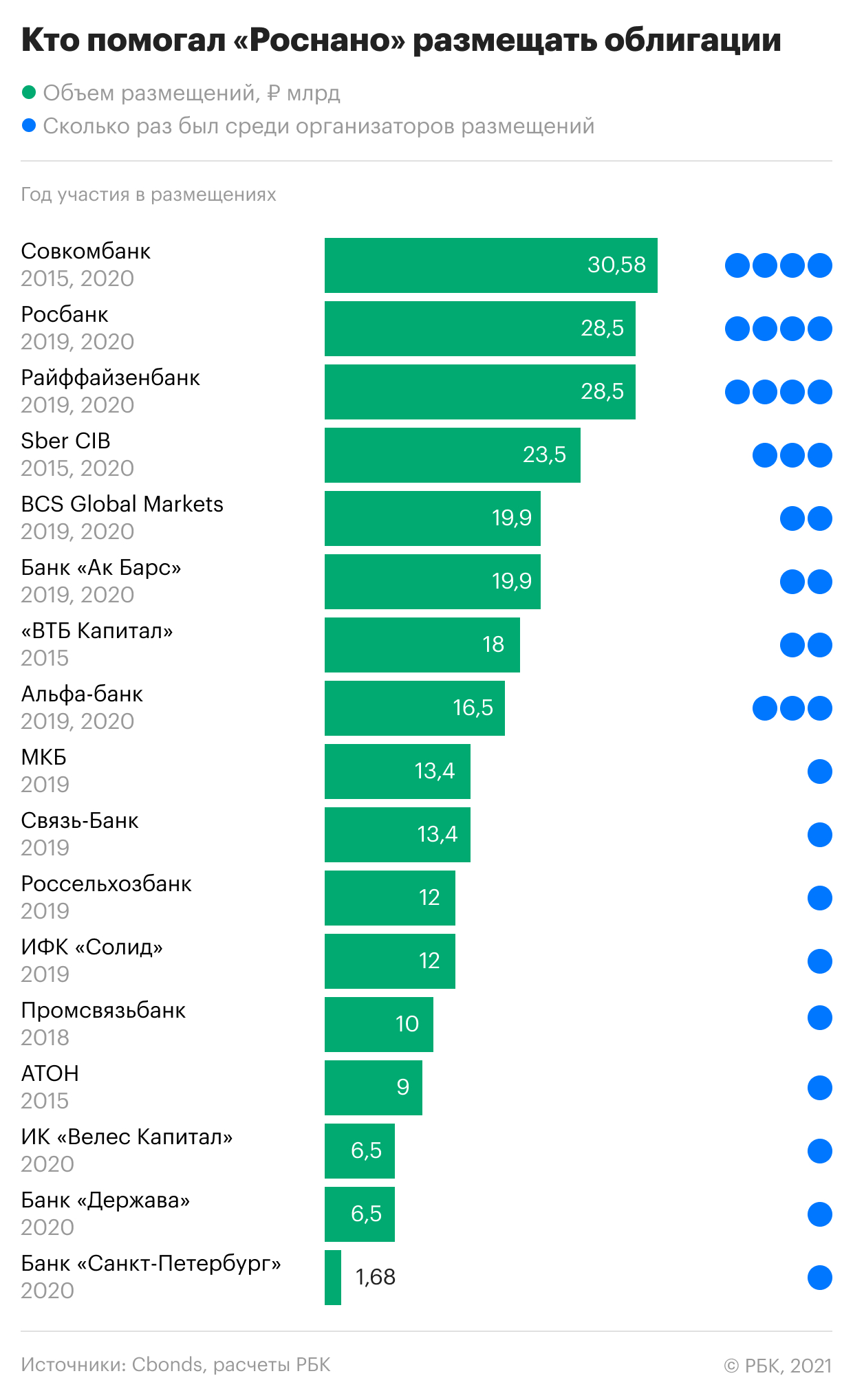 Sovcombank reported that at the moment they have no Rusnano bonds on the balance sheet. Ak Bars confirmed the presence of bonds in its portfolio. "The volume is an insignificant share in the total portfolio of securities," said a bank representative. Promsvyazbank, Rosbank and Raiffeisenbank did not respond to RBC's request. RBC's source in Alfa-Bank said that the credit institution's portfolio contains "an insignificant amount of Rusnano securities and the bank practically does not affect the situation with restructuring." A spokesman for Alfa Bank declined to comment.