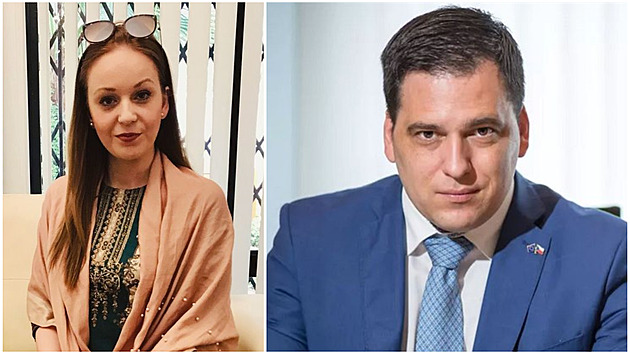 "The Czech Republic continues to try to agree on the return of Tereza H. to our homeland. He provides her with the maximum possible support. We firmly believe that a solution will be found soon." the European Tomáš Zdechovský, who often commented on Terez's case, told Expres this March.
It almost seemed that the MEP fit the role of Tereza Hlůšková's protector. Everyone was now surprised when the girl from Uherské Hradiště wrote on Instagram about how, according to her, Zdechovský "helped" in her case.
"I would really like to know what MEP Zdechovský has done for me. I've seen a million videos of him pretending to save me, but we still don't know who it is. Mr. Zdechovský, would there be an explanation? Why are you no longer giving interviews? Because I'm out now and I can talk?' wrote Tereza in Stories.
Zdechovský did not like it and returned the blow to the young girl.
"She already proved her naivety when smuggling drugs from Pakistan, so why should she believe that the Czech Republic helped her? Where did she spend that time after being released from prison? Who ensured her safety? If someone believes that the court will suddenly release him after serving half of his sentence on the basis of the alleged misconduct of the customs officials, he is really stupid." stated to CNN Prima News Zdechovský, who is of the opinion that Hlůšková knows nothing about the actions of Czech diplomats in Pakistan.
The MEP was supposed to meet with the foreign and justice ministers and diplomats in Pakistan because of Teresa's case.
Tereza: Zdechovský didn't help me get free! I owe the embassy and the lawyer
Express has now approached Tereza Hlůšková. We asked her to respond to Zdechovský's above-mentioned words and also to explain her post on the social network in more detail. The girl, who otherwise does not communicate with the Czech media at all, decided to set the record straight.
"I only know Mr. Zdechovský from the media. He's given interviews about how much he's helping me, but I doubt it. If anyone helped me, it was the embassy staff who took good care of me for several months. The fact that I am free is only the merit of my lawyer Malúk, who pointed out fundamental errors in the case in court. So how did Mr. Zdechovský help me in my liberation? After all, even the people from the embassy didn't know him," Hlůšková said exclusively to Expres.cz.
"Mr. Zdechovský claims that he acted in Pakistan. But I don't know about the fact that he was there. I'm sure he wasn't there when I was locked up. What he's saying is unfair to my lawyer who got me out." added the young Czech woman.
When Tereza was in prison, she contacted several politicians through her friend. For example, she begged the then Prime Minister Andrej Babiš (ANO) or Foreign Minister Tomáš Petříček (ČSSD) for help.
"The only one who answered me was Andrej Babiš, who said that he would forward the whole matter to the Ministry of Foreign Affairs," says Teresa.
Ex-minister Petříček: I have no idea how Zdechovský was involved in the case…
Expres also contacted former Foreign Minister Tomáš Petříček. He claims that no request from Tereza Hlůšková has reached him.
"I don't know by what route she should have asked me for help, but no such request reached me. We dealt with her case like all similar cases through the consular staff of the Ministry of Foreign Affairs, who provide assistance to those concerned. In my opinion, the Ministry of Foreign Affairs acted responsibly to ensure that the person concerned in her situation received the necessary help," Petříček told us.
"I did not take personal credit for her early release, it was mainly the work of our diplomats who have experience with similar cases, and I am convinced that they did everything in their power, and they certainly deserve thanks," added the ex-minister.
As for MEP Zdechovský, he did not have detailed information about his specific involvement in the Petříček case.
"Mr. Zdechovský and I talked about the case of Tereza H. in the past, but I really have no idea what other activities or steps he took in this direction," Petříček let himself be heard.